Zermatt RimX Pre-fit Barrels
Since the inception of the Zermatt RimX action in early 2020, we have produce a great deal of barrels for this action with fantastic success. Shooters of all types, from plinkers to extreme long range shooters, precisely placing shots of 300-400 yards and beyond have trusted Keystone Accuracy for our expertise in producing this particular barrel.
We offer a wide variety of barrel brands when available in virtually any contour at customer request. Barrel twists have also become a recent topic of conversation. Our standard offering is 1:16″, which has proven to handle all factory loaded ammo beyond 400 yards. Other twists can be ordered at customer request, but are only beneficial to those who choose to load their own rimfire ammo. The most popular brands we produce are, but not limited to:
Krieger – Green Mountain – Bartlein – Lilja – Benchmark
Chambers:
Due to the demand of different chambers based on many different types of rimfire standard velocity and match ammo, our chamber list has grown to accommodate most requests. In the first few months of producing RimX barrels, over time and testing, we have learned the best mouth radius and chamber polish in order to expect the best possible feed and function of the control-round-feed feature of the revolutionary design of the RimX bolt face.
Available Contours:
There are many contours available, and we have done them all at one point or another. All barrels are CNC contoured and threaded to a class 3A-B thread fit engagement, All chamber threads include a stub lead (higby) thread to ensure the installer will not accidently cross thread the barrel in the action. This is a feature that Keystone Accuracy incorporates into all of our barrels.
The most popular contour after producing several hundred barrels remains the straight taper M24 @ 20″, but we have had occasion to produce many other popular and custom contours at virtually any length for the varying needs of customers.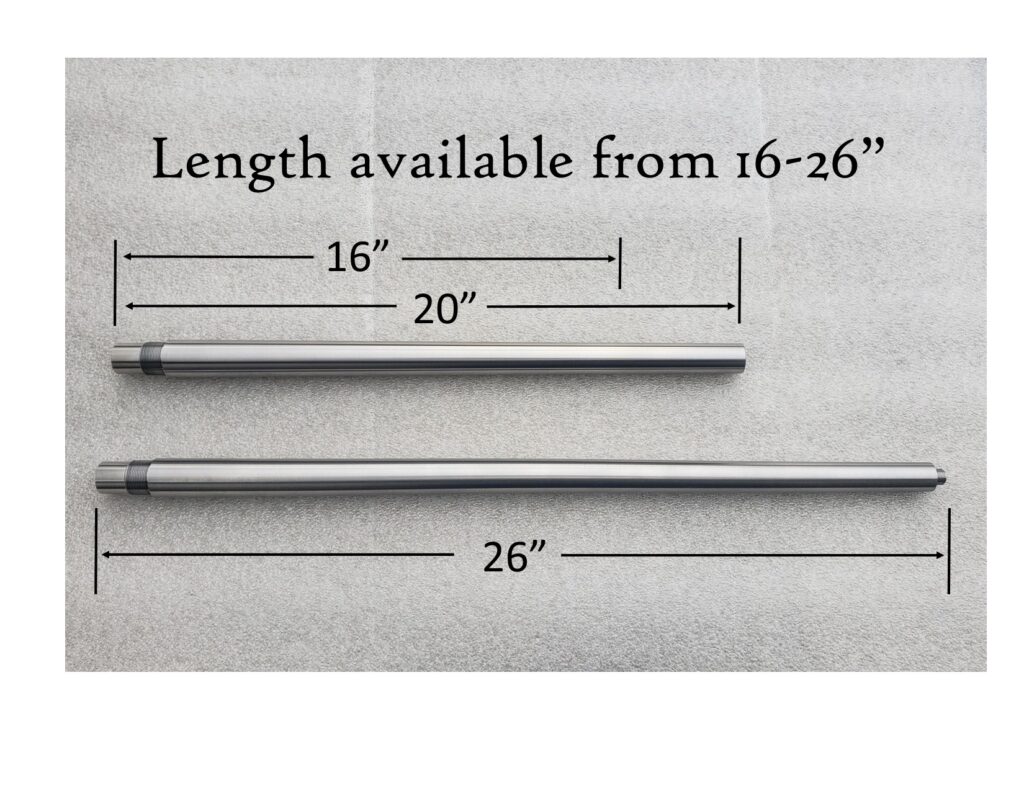 Price: Starting at $395
———————————–
Muzzle Threads:
We can produce virtually any muzzle thread that a customer can request. Trust me, we've seen some odd balls, but they have their purpose due to the multitude of muzzle devices and suppressors on the market today. Unless the customer provides a specific thread print, we install (when a muzzle thread is ordered) a standard 1/2-28x.400 muzzle thread that is relieved at the rear and has a .050″ nose radius for a nice clear look that is compatible with 99% of all devices on the market currently. Other thread pitch and diameters available on request.
Muzzle threads: $45
———————————–
Thread Protectors:
Due to very popular demand, we produce a custom thread protector in-house for three of the most popular contours that pretty much accommodate all of the muzzle diameters across the wide spectrum of available contours. They are currently produced in 416 stainless steel for the med palma, heavy palma, and M24 contours and have diameters of .890″, .930, & .980 respectively and are .400″ thick to perfectly match the length of a rimfire thread. Our protectors are neatly knurled and radiused for a nice clean look and ease of use.
Price: $22
———————————–
Ready to Order?
Why choose Keystone Accuracy?
It's a pretty short explanation. It can all be summed up by just three famous quotes from the now immortal words of P.T. Barnum, which particularly ring true in the firearms industry.
"Many people are gullible, and we can expect this to continue."
" You can fool most of the people most of the time."
"There is a fool born every minute"
There are countless vendors out there that rely heavily on these assertions from old P.T. and laugh all the way to the bank. Some vendors need to convince you that multiple profit layers that they charge you for the same product will somehow make you feel better about your purchase. Sounds like the same BS that the Biden administration lays on the American public to justify sell their inflation plan.
Keystone is a professional shop that takes quality very seriously, particularly in a world of vendors in many industries that very outwardly illustrate that they would rather charge more, give less, and rely on snappy talk to make the sale. We will challenge anyone, any time at ANY price to provide a better value with RimX or any pre-fit barrels, PERIOD!
Here is some real work testing with a standard off the shelf Green Mountain barrel. Other barrels have tested as well or better than this across a wider variety of ammo. This is not a cherry picked barrel or altered photo. This is accuracy in its purity at a cost that is within budget!
Here is an example of one of the competitor's finish work that I was asked to rework at the customer's request.